1885-S Morgan Silver Dollar Value
Mintage: 1,497,000
Finest Known: MS66+ (NGC) MS67 (PCGS)
Auction Record: $48,875 (MS67)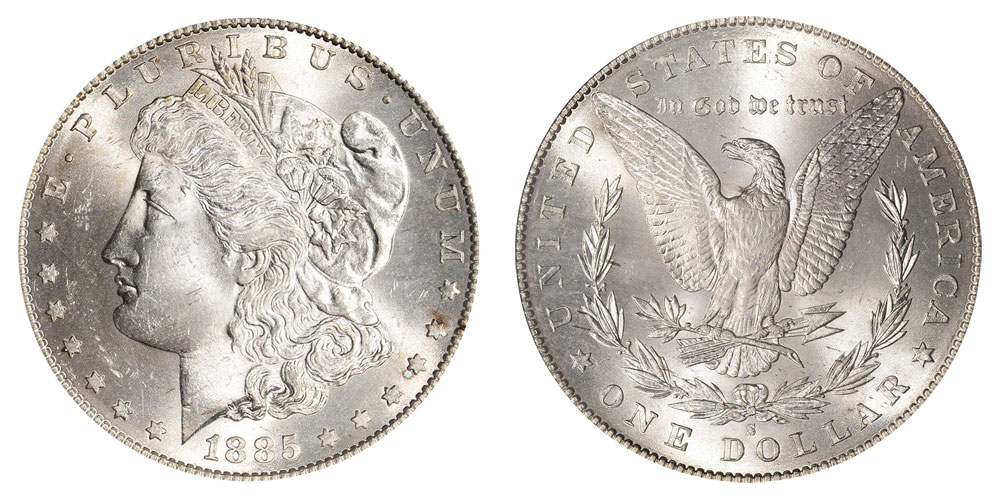 Image: USA CoinBook
The 1885-S Morgan dollar had a mintage just under a million and a half coins. The San Francisco Mint dribbled out bags of 1885-S Morgans into circulation in the regular course of business until the 1940s. As a result, the issue saw little attention from collectors until the 1950s.
The market for 1885-S Morgan dollars was sensitive to changes in supply through the 1960s. Prices stabilized after the big Treasury releases of 1962–1964. Today, it is considered a scarce issue, especially in MS65 and above, but not a truly rare mintage.
The Value of a 1885-S Morgan Dollar
Circulated examples of the 1885-S Morgan dollar are easily found for a bit more money than common date Morgans. Most Mint State 1885-S Morgan dollars had a bad time in storage. The average uncirculated 1885-S Morgan will have numerous bag marks. Consequently, most Mint State coins are found in the lower grades (MS60–MS62).
The average 1885-S Morgan dollar is weakly struck, especially in the middle. This is unfortunate, as many have a frosty luster. Sharply struck, unblemished coins that take advantage of this luster can be found with difficulty, at prices substantially above the average coin.
1885-S Morgan Dollar Price Guide
Circulated Grades
| Very Fine 25 | Extremely Fine 45 | About Uncirculated 55 |
| --- | --- | --- |
| $57 | $81 | $134 |
Uncirculated (Mint State) Grades
| Mint State 61 | Mint State 63 | Mint State 65 | Auction Record (MS67) |
| --- | --- | --- | --- |
| $358 | $448 | $1,560 | $48,875 |
The information on this page does not constitute an offer to buy or sell the coin(s) referred to. Statistics are for Mint State coins only. Proof and prooflike examples of this issue may have greater or lesser "finest known" and different record auction prices.