1889-CC Morgan Silver Dollar Value
Mintage: 350,000
Finest Known: MS67 (NGC) MS68 (PCGS)
Auction Record: $881,250 (MS68)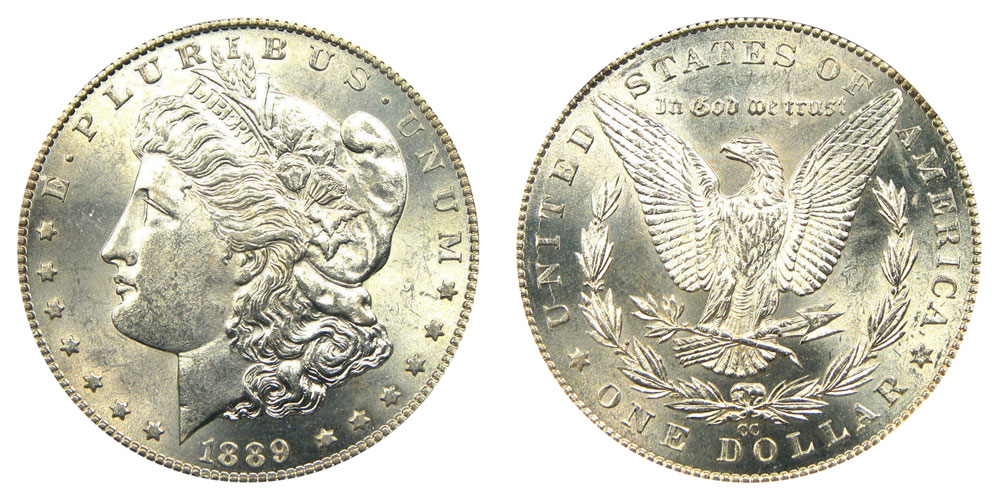 Image: USA CoinBook
The 1889-CC Morgan dollar is not only far and away the rarest Carson City silver dollar, but also a key date for the entire Morgan dollar series.
The Carson City Mint was shut down in November 1885, and not reopened until October 1889. As there had been no local supply of silver dollars in the intervening four years, most of the mintage of 1889-CC Morgan dollars immediately began entering circulation.
After the Carson City Mint ceased coining operations for good in 1893, the coins stored in its vaults were transferred to the San Francisco Mint and the Treasury Department vaults in Washington, DC
It is presumed that a large portion of this mintage ended up getting melted down under the 1918 Pittman Act. In contrast to the flood of previously rare 1881-CC and 1885-CC Morgan dollars released in the GSA hoard, only a single 1889-CC was found there.
The Value of an 1889-CC Morgan Dollar
The 1889-CC is the rarest of all Carson City Morgan dollars, with the prices to prove it. Unlike most other Carson City Morgan mintages, where the vast majority spent their existence in government vaults, most of the 1889-CC mintage went into circulation. The combination of small mintage, heavy circulation, and being melted down in 1918, means that Mint State 1889-CC Morgan dollars start in the five figures.
This also fuels high prices for circulated 1889-CC Morgans. Moderately worn examples sell for more than $1,000. Even these circulated coins are scarce, due to the small mintage.
The average 1889-CC Morgan dollar will have a full strike, but disappointing luster. However, the rarity of the coin means that the luster has little effect on the price. The same goes for uncirculated versions, which are usually bagmarked.
BEWARE OF COUNTERFEITS!
Because the 1889-CC Morgan dollar is a rare key date, fakes abound. There are probably more counterfeit 1889-CCs on the market than the real thing. Unless you are a professional expert in spotting counterfeits, it is strongly urged that you buy an authenticated, encapsulated sample. Even then, you should check the serial number with the photographs of the actual coin on the appropriate third-party coin grading service website.
1889-CC Morgan Dollar Price Guide
Circulated Grades
| Very Fine 25 | Extremely Fine 45 | About Uncirculated 55 |
| --- | --- | --- |
| $1,230 | $3,880 | $7,880 |
Uncirculated (Mint State) Grades
| Mint State 61 | Mint State 63 | Mint State 65 | Auction Record (MS68) |
| --- | --- | --- | --- |
| $22,300 | $34,600 | $288,000 | $881,250 |
The information on this page does not constitute an offer to buy or sell the coin(s) referred to. Statistics are for Mint State coins only. Proof and prooflike examples of this issue may have greater or lesser "finest known" and different record auction prices.