1890-S Morgan Silver Dollar Value
Mintage: 8,230,373
Finest Known: MS67 (NGC) MS67 (PCGS)
Auction Record: $17,250 (MS67)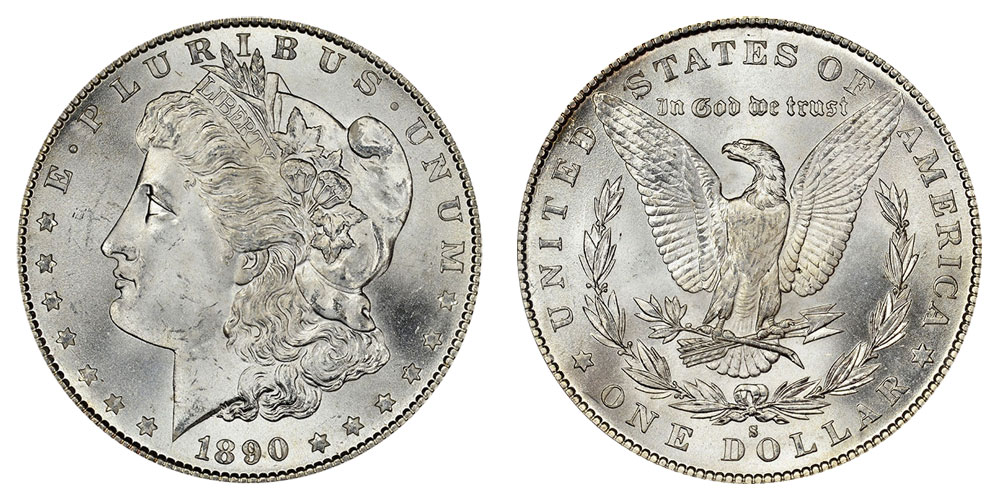 Image: USA CoinBook
With a bit more than 8 million minted, the 1890-S Morgan dollar remains plentiful enough to be readily available today. While a good number entered circulation near the time of mintage, enough were saved by early collectors that finding a nicely struck Mint State 1890-S Morgan dollar is a fairly easy task.
The Value of an 1890-S Morgan Dollar
The 1890-S is another San Francisco Morgan dollar which exhibits a far better strike than usual. Strikes are generally sharp and detailed, with exceptional luster. Prooflike finishes are more common for the 1890-S than the usual San Francisco Morgan dollar.
The 1890-S Morgan is not difficult to obtain. It is easily found in circulated grades up to MS63. This is a Morgan dollar where its price is as attractive as its finish.
1890-S Morgan Dollar Price Guide
Circulated Grades
| Very Fine 25 | Extremely Fine 45 | About Uncirculated 55 |
| --- | --- | --- |
| $36 | $38 | $50 |
Uncirculated (Mint State) Grades
| Mint State 61 | Mint State 63 | Mint State 65 | Auction Record (MS67) |
| --- | --- | --- | --- |
| $101 | $169 | $780 | $17,250 |
The information on this page does not constitute an offer to buy or sell the coin(s) referred to. Statistics are for Mint State coins only. Proof and prooflike examples of this issue may have greater or lesser "finest known" and different record auction prices.