1893-O Morgan Silver Dollar Value
Mintage: 300,000
Finest Known: MS66 (NGC) MS65 (PCGS)
Auction Record: $152,750 (MS65)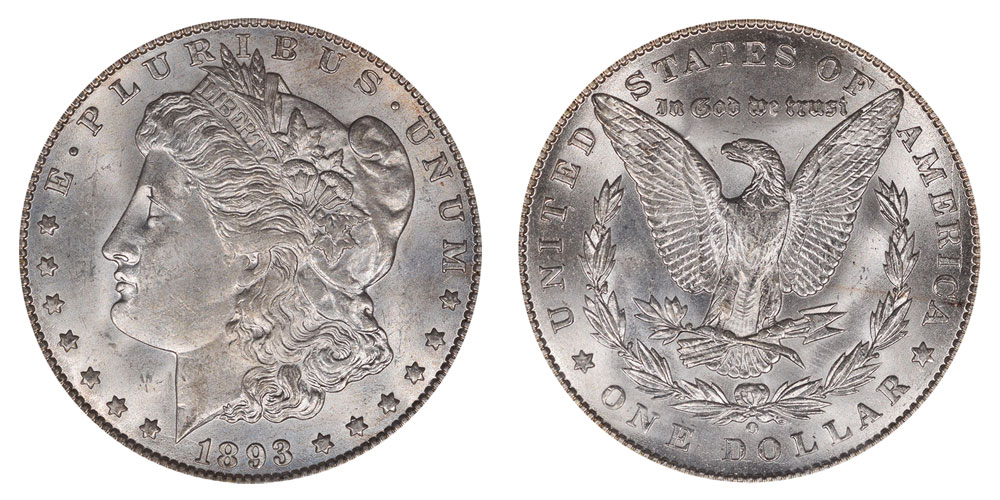 Image: USA CoinBook
The 1893-O has the lowest mintage for any Morgan dollar produced at the New Orleans Mint. In fact, Mint records show that they were all produced in January of that year. Many of the tiny mintage ended up circulating. Most of those that didn't, ended up getting banged around in bank bags.
Surprisingly, some $1,000 bags of 1893-O Morgans were paid out at face value at the Washington DC Treasury Department headquarters in the late 1940s to mid 1950s. They were all gone by the time of the Treasury disbursements in 1962–1964. An unknown number may have been melted under the 1918 Pittman Act.
PCGS puts estimated survivors in all grades at roughly 10% of the original mintage. Of these it lists 5,960 in Mint State, and only 27 at MS65 or higher. These estimates, like those for all 1893 Morgan dollar mintages, seem to be overly optimistic. PCGS shows a population of six 1893-O Morgan dollars at MS65, with none finer. NGC lists two at MS65 and one at MS66 in its registry.
The Value of an 1893-O Morgan Dollar
The 1893-O Morgan dollar is one of the most rare Morgans in MS65, with only one finer known. Most uncirculated examples suffer from excessive bag marks, limiting their score. Mint State grades cluster around MS62 and MS63.
1893-O Morgan dollars show soft strikes, as is usual for the New Orleans Mint. Some coins have a noticeable weakness in the center obverse. Finding sharply struck 1893-O Morgan dollars will take patience and money.
1893-O Morgan Dollar Price Guide
Circulated Grades
| Very Fine 25 | Extremely Fine 45 | About Uncirculated 55 |
| --- | --- | --- |
| $416 | $618 | $1,150 |
Uncirculated (Mint State) Grades
| Mint State 61 | Mint State 63 | Mint State 65 | Auction Record (MS65) |
| --- | --- | --- | --- |
| $4,380 | $7,500 | $187,600 | $152,750* |
*The auction record of $152,750 was recorded in 2012. The present MS65 estimated price is from the Coin Dealers Network "Greysheet," which is continually updated.
The information on this page does not constitute an offer to buy or sell the coin(s) referred to. Statistics are for Mint State coins only. Proof and prooflike examples of this issue may have greater or lesser "finest known" and different record auction prices.