1897-S Morgan Silver Dollar Value
Mintage: 5,825,000
Finest Known: MS68 (NGC) MS68 (PCGS)
Auction Record: $29,900 (MS68)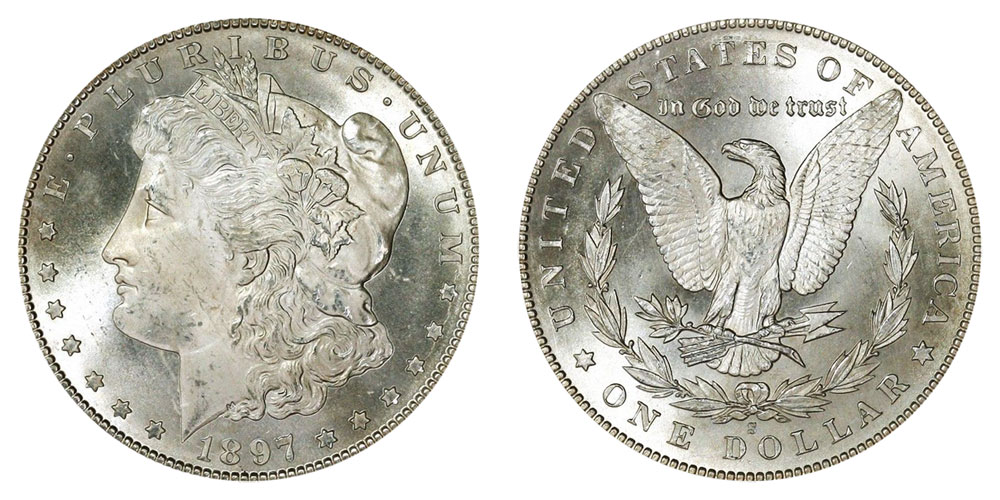 Image: USA CoinBook
The 1897-S Morgan dollar is not an especially scarce coin, even though it is generally recognized as one of the nicer San Francisco Morgans.
The San Francisco Mint sold bags of 1897-S Morgans through the 1920s. After the Great Depression and World War II, the San Francisco Mint resumed putting bags of 1897-S Morgans into circulation. Many of these ended up in casinos in Reno and Las Vegas, and contributed to the number of circulated surviving 1897-S Morgans.
PCGS lists 585,000 surviving 1897-S Morgan dollars in all conditions, with fully 100,000 of those in Mint State. Of those, approximately 4,900 are thought to be MS65 or above.
The Value of an 1897-S Morgan Dollar
The 1897-S Morgan Dollar is common in circulated grades, and Mint State grades up to MS65. Prices and rarity escalate rapidly from MS65 to MS68. They are usually sharply struck, with great luster. Numismatic expert Q.David Bowers once described the 1897-S Morgan dollar as "delightful."
1897-S Morgan Dollar Price Guide
Circulated Grades
| Very Fine 25 | Extremely Fine 45 | About Uncirculated 55 |
| --- | --- | --- |
| $41 | $42 | $58 |
Uncirculated (Mint State) Grades
| Mint State 61 | Mint State 63 | Mint State 65 | Auction Record (MS68) |
| --- | --- | --- | --- |
| $108 | $176 | $520 | $29,900 |
The information on this page does not constitute an offer to buy or sell the coin(s) referred to. Statistics are for Mint State coins only. Proof and prooflike examples of this issue may have greater or lesser "finest known" and different record auction prices.