1898-O Morgan Silver Dollar Value
Mintage: 4,440,000
Finest Known: MS68 (NGC) MS67+ (PCGS)
Auction Record: $21,850 (MS68)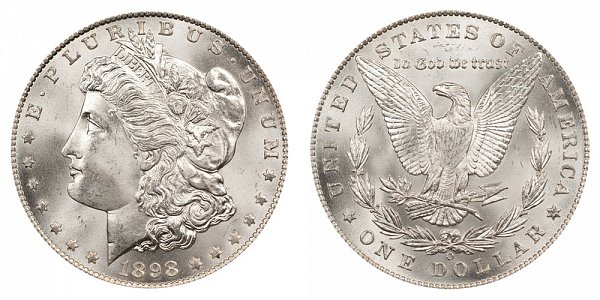 Image: USA CoinBook
The 1898-O Morgan dollar is one of the "heartbreaker" mintages of this famous coin.
The 1898-O Morgan was once one of the great rarities in the series. They seldom appeared on the market, and commanded top dollar when they did. This meant that many high tier New Orleans Morgan dollar collections were missing the 1898-O in any grade. According to some experts at the time, it was the third-rarest of all Morgan dollars
This is because almost no 1898-O Morgans were released into circulation. Almost all of the 4.4 million coins minted were stored in the New Orleans Mint's vaults. When the Mint was shut down for good, the contents of its vaults were transferred to long-term storage at the Treasury Department in Washington DC.
In October 1962, the Treasury Department disgorged millions of Mint State Morgan dollars from long-term storage. Among these were hundreds of thousands of uncirculated New Orleans Mint Morgans, including the 1898-O. The price of the 1898-O Morgan dollar fell 95% as soon as it was realized how many had suddenly flooded the market. It remains a relatively inexpensive New Orleans Morgan dollar
Today, the number of Mint State coins available keeps the prices of circulated specimens low.
PCGS estimates that at least 444,000 1898-O Morgan dollars have survived to the present day. This is broken down to 297,000 in circulated grades, 53,000 in lower Mint State (MS60 to MS64),and 47,000 in Mint State 65 or greater. This is a coin that is relatively common up to MS66.
The Value of an 1898-O Morgan Dollar
Due to the flood of Mint State 1898-O Morgan dollars from Treasury vaults, this is another mintage where circulated coins are not as common as Mint State examples.
1898-O Morgan Dollar Price Guide
Circulated Grades
| Very Fine 25 | Extremely Fine 45 | About Uncirculated 55 |
| --- | --- | --- |
| $43 | $47 | $50 |
Uncirculated (Mint State) Grades
| Mint State 61 | Mint State 63 | Mint State 65 | Auction Record (MS68) |
| --- | --- | --- | --- |
| $59 | $77 | $162 | $21,850 |
The information on this page does not constitute an offer to buy or sell the coin(s) referred to. Statistics are for Mint State coins only. Proof and prooflike examples of this issue may have greater or lesser "finest known" and different record auction prices.