1899-S Morgan Silver Dollar Value
Mintage: 2,562,000
Finest Known: MS67 (NGC) MS67+ (PCGS)
Auction Record: $49,938 (MS67+)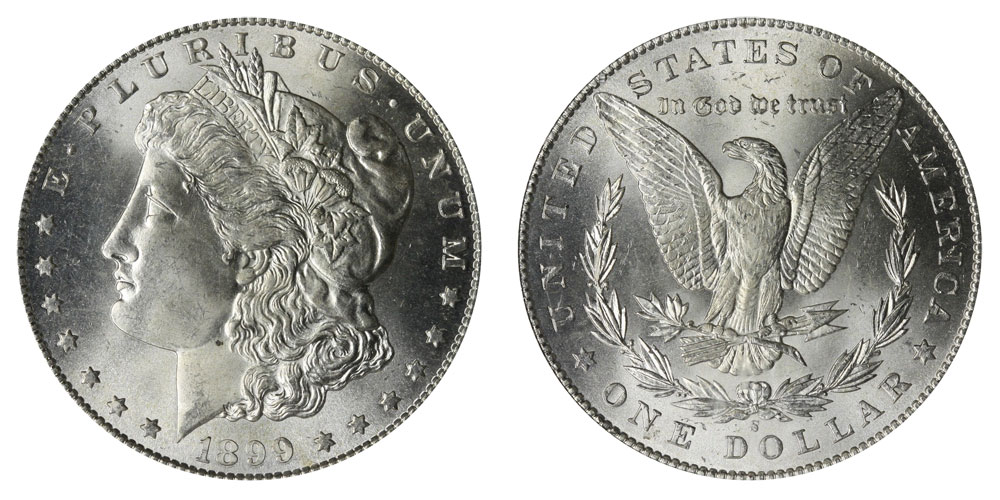 Image: USA CoinBook
The 1899-S Morgan dollar saw a mintage that was about half that of the preceding three years. The 1899-S Morgan dollar has a sharp strike and good luster, unlike many other mintages from San Francisco.
More than a quarter million 1899-S Morgan dollars may have survived to the present day. Of these, some 40,000 are Mint State. The vast majority of these are in the MS60 to MS62 range, due to bag marks. Less than 2,000 1899-S Morgan dollars will grade MS65 or better.
The Value of A 1899-S Morgan Dollar
The good luster on many surviving 1899-S Morgan dollars is due to the fact that few of them seem to have circulated. Worn pieces do not have prices that reflect their rarity. This is because of the large number of lower Mint State (MS60-MS62) coins that are available. Nonetheless, 1899-S Morgans carry a moderate premium over common date Morgan dollars.
1899-S Morgan Dollar Price Guide
Circulated Grades
| Very Fine | Extremely Fine | About Uncirculated |
| --- | --- | --- |
| $59 | $108 | $228 |
Uncirculated (Mint State) Grades
| Mint State 61 | Mint State 63 | Mint State 65 | Auction Record (MS67+) |
| --- | --- | --- | --- |
| $520 | $715 | $1,810 | $49,938 |
The information on this page does not constitute an offer to buy or sell the coin(s) referred to. Statistics are for Mint State coins only. Proof and prooflike examples of this issue may have greater or lesser "finest known" and different record auction prices.
Grading Morgan Dollars
The guidelines below will apply to all Morgan dollars, not just the 1899-S.
The two major determinants of value in Morgan dollars is rarity and condition. A standard grading scale for coins was adopted in the 1980s. It runs from 1 (barely identifiable) to 70 (perfect, even under 5x magnification). Known as the Sheldon scale, these numeric grades are more precise than the old adjectival descriptions.
The advent of third-party coin grading services in the 1980s has helped standardize coin grading. These companies grade coins, then seal them into clear plastic cases (slabs) displaying the coin's grade. This is a good resource for learning to estimate coin grades yourself. Examine a slabbed coin and challenge yourself to spot why the coin received the grade it did.
There are particular places on Morgan dollars that play a large part in the grade they receive. Note that damage, especially in the coin's fields, adversely affects a coin's grade.
THE HIGH POINTS WHERE SIGNS OF WEAR FIRST APPEAR ON MORGAN DOLLARS:
Top of cheek
Brow
Hairline
Hair over ear
Curls over date
Top of cap
Eagle's breast
Eagle's legs
Eagle's head
Right wingtip
PRIME FOCAL AREAS ON MORGAN DOLLARS
Face and neck of Liberty
The field in front of Liberty's face
Body and wings of the eagle
Fields to sides of wings and above eagle's head
Very Fine
A Very Fine 1899-S Morgan dollar will have medium to light overall wear. The hair from above the ear to the forehead on Liberty will be flat. Moderate flatness and abrasion can be evident on the cheek, forehead, and throat.
Other high points like the tip of the cap and the cotton in the headband will also show flatness and wear. The breast and the legs on the eagle will be flat. Details may be missing on some wing feathers, especially on the right wingtip.
Extremely Fine
The average XF 1899-S Morgan dollar will exhibit light wear. The usual high points will be affected most. Liberty's hair will retain more details than a VF Morgan dollar, but still have some flatness. Her cheek, forehead, and throat may show light abrasions. The tip of the cap will still show flatness. Some details on the cotton in Liberty's hair will be visible.
Feathers will be seen on the side of the eagle's breast and legs. The eagle's head shows more detail than a VF coin. Feathers are missing fine detail, especially on the right wingtip.
About Uncirculated
An AU 1899-S Morgan dollar will show only the slightest wear. Mint luster should be nearly complete, aside from the highest points of the coin. A coin awarded AU58, the highest circulated grade, will often present greater eye appeal than a MS60 or MS61 uncirculated coin.
Uncirculated Morgan Dollars
Uncirculated 1899-S Morgan dollars are those coins that were never paid out from a bank. Also called Mint State, many of these coins never left control of the U.S. Mnit or the Treasury Department.
That said, a Mint State grade does not equal an undamaged coin. All circulating coins, not just Morgan dollars, were poured into large canvas bags for storage and transportation. The coins would scrape and rub against one another in these bags as they were moved. They were expected to get worn and beat up in the normal course of commerce, so no special effort was taken when storing and shipping them.
Mint State 61
The only thing a Mint State 61 1899-S Morgan dollar has going for it is it's uncirculated status. A coin receiving this grade will have a large amount of heavy and light damage. It usually has a weak strike and incomplete or damaged luster. It is rare to see anyone bothering to have this grade authenticated. There is no market for MS60 or MS61 coins unless they are extremely rare.
Mint State 63
The MS63 1899-S Morgan dollar will have ordinary eye appeal. It will have a good to sharp strike, with full mint luster. It will have fewer bag marks, and no heavy bag marks. It will still have enough damage to be distracting. Some scuffing on the cheek is not uncommon.
MS63 and MS64 are usually the most popular uncirculated coin grades. They are notably more attractive than lower grades, but do not carry the hefty premium commanded by MS65 coins.
Mint State 65
The MS65 1899-S Morgan dollar boasts a sharp strike and full mint luster. Any marks will be light and scattered. Very light friction might be visible on Liberty's cheek and the eagle's breast.
The prices of Morgan dollars at MS66 and above are prohibitive for the average collector. For example, a MS66 1899-S Morgan dollar costs triple what a MS63 does. This makes MS65 Morgan dollars the preferred grade for serious collectors.