1901-S Morgan Silver Dollar Value
Mintage: 2,284,000
Finest Known: MS66 (NGC) MS67 (PCGS)
Auction Record: $42,300 (MS67)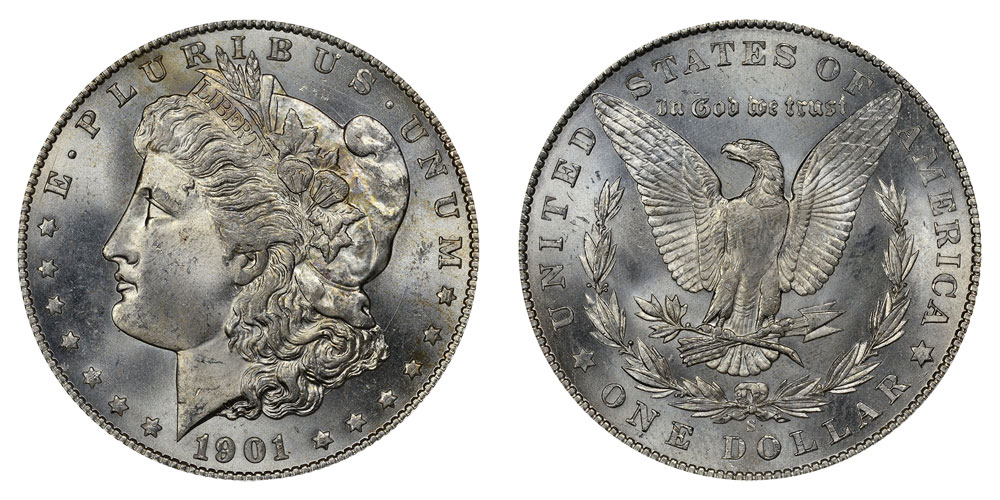 Image: USA CoinBook
The 1901-S Morgan dollar saw most of the mintage enter circulation over many years. This is one date that was completely absent from the famous Redfield Hoard, and drastically underrepresented in the big Treasury disbursements of the 1960s.
The Value of A 1901-S Morgan Dollar
The 1901-S Morgan dollar is uncommon in circulated grades and lower Mint State grades. It becomes somewhat of a condition rarity.
1901-S Morgan Dollar Price Guide
Circulated Grades
| Very Fine | Extremely Fine | About Uncirculated |
| --- | --- | --- |
| $60 | $90 | $220 |
Uncirculated (Mint State) Grades
| Mint State 61 | Mint State 63 | Mint State 65 | Auction Record (MS67) |
| --- | --- | --- | --- |
| $500 | $800 | $2,400 | $42,300 |
The information on this page does not constitute an offer to buy or sell the coin(s) referred to. Statistics are for Mint State coins only. Proof and prooflike examples of this issue may have greater or lesser "finest known" and different record auction prices.
Grading Morgan Dollars
The guidelines below will apply to all Morgan dollars, not just the 1901-S.
Coins are graded on a 1 to 70 scale, with 1 being barely recognizable, and 70 being flawless. Even with modern grading standards for each type of coin, coin grading is still more art than science. Since the condition is the primary determinant of value for a coin, an accurate and generally accepted method of grading coins is desired.
This need sparked the creation of third-party grading services. These companies employ coin experts and detailed guidelines for grading coins. The two largest grading services are NGC and PCGS. When a coin is professionally graded, it is sealed in a hard, clear plastic case called a slab. A label with the coins identity and the grade it received is also sealed in the slab.
Slabbed coins generally will sell for more than loose coins of the same condition. A grade by a grading service gives the buyer more peace of mind, which makes them more willing to pay full value for the coin.
THE HIGH POINTS WHERE SIGNS OF WEAR FIRST APPEAR ON MORGAN DOLLARS:
Top of cheek
Brow
Hairline
Hair over-ear
Curls over date
Top of cap
Eagle's breast
Eagle's legs
Eagle's head
Right wingtip
PRIME FOCAL AREAS ON MORGAN DOLLARS
Face and neck of Liberty
The field in front of Liberty's face
Body and wings of the eagle
Fields to sides of wings and above eagle's head
Very Fine
A Very Fine (VF35) Morgan dollar will have light to moderate wear overall. All major details and most minor details will be present. Marks may be present in prime focal areas. Wear will be more significant on the high points of the coin, such as on Liberty's hair and cap. Liberty's cheek may show mild abrasion. Minor details will be missing from the cotton balls in Liberty's headband. The cotton leaves will have noticeably flat edges.
The top of the eagle's breast and legs will be worn nearly flat. All wing feathers will be present, but some will be missing detail. The right wingtip will be worn.
Extremely Fine
The Extremely Fine (XF45) Morgan eagle displays light wear overall. Bag marks, if present, should be light. All major detail and most minor detail will be visible. Wear will be more evident at high points. The hairline will have mild flatness, but most detail will remain. Cheek abrasion, if present, will be modest. Minor detail will be visible on the cotton balls, and the cotton leaves will show less wear than on a VF coin.
The eagle's breast and legs will be lightly worn. Feathers will be missing from high points on both locations, but otherwise visible. The right wingtip will show light wear. Other wing feathers will show light to no wear.
About Uncirculated
The About Uncirculated (AU55) Morgan dollar will have a tiny bit of wear on the very highest points. Any bag marks or post-mint damage should be small, scattered, and unobtrusive. Luster will be complete, except for possibly the cheek and right wingtip.
An AU55 coin will have very good eye appeal, even when compared to MS60 to MS62 Mint State coins.
Uncirculated Morgan Dollars
Uncirculated (Mint State) Morgan dollars are coins that have never been paid out to the public until they were acquired by a coin dealer or coin collector. Since they were mass-produced by the millions and weren't worth any more than their face value, no extra care was taken with them during production and storage.
This means that nearly every Mint State Morgan dollar suffered at least some damage during transportation and storage. The unlucky ones got banged around and struck one another repeatedly. The lucky ones may have survived with little to no abrasion. The key to a Mint State coin is that there is absolutely no circulation wear.
Mint State 61
A Mint State 61 (MS61) Morgan dollar will display a substantial number of marks and abrasions, some heavy. Prime focal points will be significantly affected. It is uncommon to see "slabbed" MS61 Morgan dollars unless they are a rare date. The market for MS61 is practically non-existent.
Mint State 63
MS63 is considered the "average" Mint State grade in Morgan dollar collecting. Taken together, MS63 and MS64 make up the majority of graded Mint State coins.
The MS63 Morgan dollar will have full luster. Eye appeal is average since some small marks and abrasions in prime focal areas detract from its appearance.
Mint State 65
Mint State 65 (MS65) Morgan dollars is where the collector will see a significant surge in prices. It will show a sharp strike for the date, full luster, and very few light marks. Eye appeal is far better than the MS63 Morgan dollar. There is a reason that MS65 is also known as "Gem Uncirculated."