1902 Morgan Silver Dollar Value
Mintage: 7,994,777
Finest Known: MS67+ (NGC) MS67+ (PCGS)
Auction Record: $28,200 (MS67+)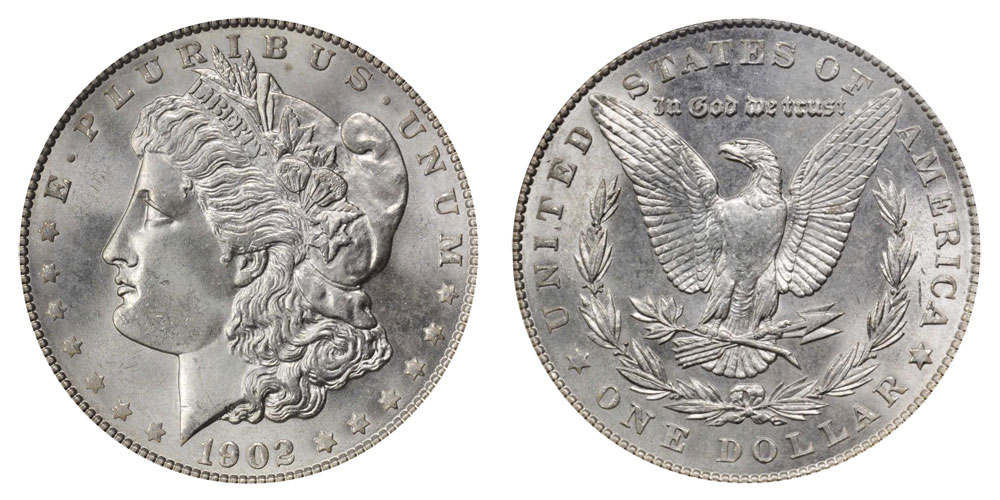 Image: USA CoinBook
The history of the 1902 Morgan dollar followed the same trajectory as many dates from the Philadelphia Mint. It had a high initial mintage, but nearly all of them were put into storage. The 1902 Morgan was common in worn grades for the next 30 years but scarce in Mint State.
1902 Morgan dollars began reappearing in circulation right after WWII. The number of Mint State coins emerging from Treasury vaults increased through the 1950s, around five years before some of the more notable dates.
The Value of A 1902 Morgan Dollar
Circulated 1902 Morgan dollars are readily available. Lower Mint State grades are also easy to find. This date becomes a condition rarity in grades above MS64. Strike quality is varied, running from weak to normal. Relatively few Mint State 1902 Morgan dollars have a reasonably sharp strike.
1902 Morgan Dollar Price Guide
Circulated Grades
| Very Fine | Extremely Fine | About Uncirculated |
| --- | --- | --- |
| $32 | $40 | $45 |
Uncirculated (Mint State) Grades
| Mint State 61 | Mint State 63 | Mint State 65 | Auction Record (MS67+) |
| --- | --- | --- | --- |
| $50 | $150 | $300 | $28,200 |
The information on this page does not constitute an offer to buy or sell the coin(s) referred to. Statistics are for Mint State coins only. Proof and prooflike examples of this issue may have greater or lesser "finest known" and different record auction prices.
Grading Morgan Dollars
The guidelines below will apply to all Morgan dollars, not just the 1902-P.
As seen by the price chart at the bottom of the page, a coin's condition plays a major role in its value. Because even today, opinions on a particular coin's grade can vary, collectors will send valuable coins to a professional coin grading service. The two largest grading services are NGC and PCGS.
The coin will be graded on the standard 1 to 70 coin grading scale, with 70 being reserved for a flawless coin. The coin will then be sealed in a hard plastic shell called a "slab," along with a label that gives the coin's description, grade, and a serial number.
Buyers are more confident about a coin's condition when it has been professionally graded. This means that sellers are more likely to get what the coin is worth.
THE HIGH POINTS WHERE SIGNS OF WEAR FIRST APPEAR ON MORGAN DOLLARS:
Top of cheek
Brow
Hairline
Hair over ear
Curls over date
Top of cap
Eagle's breast
Eagle's legs
Eagle's head
Right wingtip
PRIME FOCAL AREAS ON MORGAN DOLLARS
Face and neck of Liberty
The field in front of Liberty's face
Body and wings of the eagle
Fields to sides of wings and above eagle's head
Very Fine
A Very Fine (VF35) Morgan dollar will have retained all major details and most of its minor details. Wear is light overall, with greater wear seen on the coin's highest parts. Any marks should not be blatantly obvious.
Liberty's cheek may show some abrasion, and the high points in her hair will be flat. The cotton balls in her hairband will be worn and missing minor details. The cotton leaves will be worn over most of their edges.
The highest points on the eagle's breast and legs will be worn flat. Traces of feathers will remain on the sides of the breast and legs. Wing feathers will be complete, but lightly worn. The right wingtip, another high point, will show wear, but all feathers will be visible.
Extremely Fine
An Extremely Fine (XF45) Morgan dollar will have very light wear overall. 90% of the details will remain. Slight wear will be seen on Liberty's cheek and high points of the hair. The cotton balls will show nearly all of its original minor details. Edges of the cotton leaves will show light wear.
The eagle's breast and legs will show more feathers than on a VF coin, only missing those at the highest points. The right wingtip will show light wear. The rest of the wings will retain minor detail in spots.
About Uncirculated
Overall, the About Uncirculated (AU55) Morgan dollar will have extremely light to barely visible wear. Luster should be mostly complete, only missing from the cheek and very highest points. An AU Morgan dollar will display good eye appeal, even when compared to low-grade uncirculated coins. Nicks and scratches should be tiny, unobtrusive, and barely existing.
Uncirculated Morgan Dollars
Uncirculated Morgan dollars are those coins that were never paid out to the public before being acquired by a coin dealer or collector. Also called Mint State coins, they must not show any wear whatsoever. This doesn't mean that they are necessarily undamaged, though. Regular coins that aren't special collector's editions are treated like any other widget or sprocket.
They are ejected from high-speed coin presses into holding bins, then dumped into hoppers where automatic counting machines fill 1,000 dollar canvas bags. These bags are then stacked onto carts, which take them to a vault for storage. From there, they are sent to banks by the bagful when requested or sit there until disbursed straight from the Treasury Department.
This means that Morgan dollars that have never seen the outside of the U.S. Mint have been jostled and banged around against each other countless times. Some of these coins weather the ordeal better than others.
Uncirculated coins are graded from Mint State 60 (MS60) to Mint State 70 (MS70). An MS60 coin has never circulated but has been pretty battered. An MS70 coin is one that is flawless, even under 5x magnification.
Mint State 61
An MS61 Morgan dollar will have several noticeable marks or scratches, many on prime focal areas. Noteable abrasions or scuffs are common. Some will have spotting or scattered discoloration. This damage will impair luster. MS61 Morgan dollars are frankly unattractive. It is rare to see anyone bothering to have this grade authenticated, as there is no market for MS60 or MS61.
Mint State 63
Considered the "average" grade for Mint State coins. MS63 Morgan dollars will have decent eye appeal, but small, scattered marks detract from its overall appearance. Some of these marks will appear on main focal areas such as Liberty's face or in the field on the left of the coin. Mint luster is complete.
Mint State 65
Mint State 65 Morgan dollars are very attractive. Only the very slightest nick or scratch on Liberty's face, or a spot of light rubbing on her chin, keep this coin from scoring even higher. These blemishes barely detract from the coin's appearance.