1903 Morgan Silver Dollar Value
Mintage: 4,562,755
Finest Known: MS68 (NGC) MS67+ (PCGS)
Auction Record: $23,000 (MS68)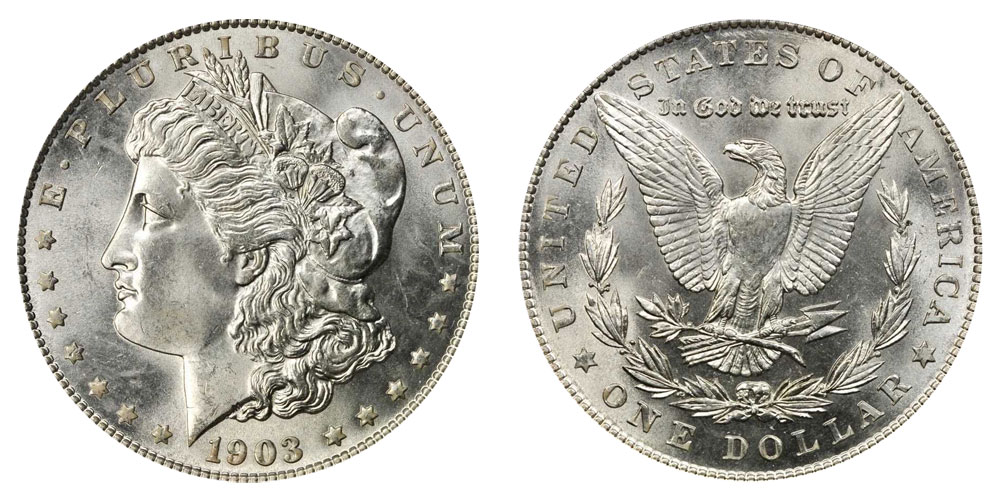 Image: USA CoinBook
The 1903 Morgan dollar from the Philadelphia Mint offers an excellent chance to pick up a late date Gem Uncirculated coin from this famous series. NGC has graded more than 3.200 1903 Morgan dollars at MS65 and above, while PCGS has graded more than 5,000 at the same grades!
The Value of A 1903 Morgan Dollar
The 1903 Morgan dollar was not an especially common coin in Mint State until 1955, when torrents of Mint State coins poured forth from Treasury vaults. Not only is this a readily available coin in Mint State, the 1903 Morgan dollar has been declared the best struck Morgan dollar ever produced at the main U.S. Mint in Philadelphia.
Many 1903 Morgan dollars that had escaped the melting pot in 1918 and 1942 were not as lucky in the 1970s, when the Hunt Brothers silver bubble was at its peak.
1903 Morgan Dollar Price Guide
Circulated Grades
| Very Fine | Extremely Fine | About Uncirculated |
| --- | --- | --- |
| $20 | $35 | $50 |
Uncirculated (Mint State) Grades
| Mint State 61 | Mint State 63 | Mint State 65 | Auction Record (MS68) |
| --- | --- | --- | --- |
| $65 | $95 | $200 | $23,000 |
The information on this page does not constitute an offer to buy or sell the coin(s) referred to. Statistics are for Mint State coins only. Proof and prooflike examples of this issue may have greater or lesser "finest known" and different record auction prices.
Grading Morgan Dollars
The guidelines below will apply to all Morgan dollars, not just the 1903-P.
The most important quality of any coin of any date is its condition. Naturally, a coin in better shape will be worth more than another coin. The difference in prices can get extreme in the higher Mint State (uncirculated) grades, as any price chart can demonstrate.
These price differences is why it is so important to get an accurate judgement on the quality of a coin. Many people with a scarce or rare coin, or a common coin in exceptional condition, will submit it to a professional coin grading service for grading. Two of the largest of these third party grading services is NGC and PCGS. After authenticating and grading a coin n the industry standard scale of 1 to 70, these companies seal it in a clear tamper-proof plastic case called a slab.
A slabbed coin usually sells for more than the same grade coin that is loose. Buyers have more confidence that a slabbed coin is accurately graded.
THE HIGH POINTS WHERE SIGNS OF WEAR FIRST APPEAR ON MORGAN DOLLARS:
Top of cheek
Brow
Hairline
Hair over ear
Curls over date
Top of cap
Eagle's breast
Eagle's legs
Eagle's head
Right wingtip
PRIME FOCAL AREAS ON MORGAN DOLLARS
Face and neck of Liberty
The field in front of Liberty's face
Body and wings of the eagle
Fields to sides of wings and above eagle's head
Very Fine
Very Fine (VF35) Morgan dollars will show light wear overall, with greater wear on the high points.
All major details and some minor details will be visible. Liberty's cheek will show some abrasion. Her hairline and the hair over her ear will show flatness, as well as the high points on her cap. Fine details in the cotton balls in her headband will be worn away, and the edges of the cotton leaves will be flat.
The breast and legs of the eagle will be flat, and the neck show wear. Traces of feathers may be seen on the sides of the eagle's breast. All wing feathers will be present, but show wear, especially on the right wing.
Extremely Fine
Extremely Fine (XF45) Morgan dollars have very light wear, mostly on the high points of the coin. 90% of the coin's details should be present. Liberty's cheek should show only minor abrasion at most. Her hairline should be full, and most hairlines readily visible and sharp. The cotton balls in her headband should show minor detail, and the leaves show just a little flatness at their edges.
The high point on the eagle's breast will have minor wear, with feathers showing to either side. The legs will likewise be worn on their high points, but show feathers to eight side of those high points. All feather details will be present on the wings, except at the right wingtip (a high point).
About Uncirculated
About Uncirculated (AU55) Morgan dollars will have barely visible wear. Luster, aside from Liberty's cheek and the very highest points of the coin, should be present. Any scratches will be tiny, light, and far between. This coin will present well, often more pleasing to the eye than Mint State coins ranging from MS60 to MS63.
Uncirculated Morgan Dollars
Uncirculated, or Mint State, Morgan dollars are those coins that never made it out into the world before a coin collector bought them. They could either be purchased from the U.S. Mint, or from a bank that received them from the Mint, but had not yet paid them out into circulation.
This doesn't mean that all uncirculated coins are undamaged. On the contrary, any coin grading MS60 or MS62 can look like it spent time rattling around in a barrel. This explains the huge jump in price between a MS63 and a MS65 Morgan dollar.
Mint State 61
This is an unattractive coin. A MS61 Morgan dollar is likely to have many bag marks or scratches in prime focal areas. Some may be deep. The mint luster is impaired, either by abrasion or clusters of marks. Few people will spend the money to submit a coin for professional grading if they think it will come back MS61.
Mint State 63
A MS63 Morgan dollar is noticeably better than lower grade uncirculated coins. While it will have far fewer and far lighter scratches or abrasions, their locations detract from the coin's appeal. Scuffing is more likely to be on Liberty's cheek, where it is front and center to the viewer.
Despite this, the MS63 retains a pleasing appearance. MS63 and MS64 are the most popular grades for historic coins, as they combine a popular blend of eye appeal and price.
Mint State 65
A MS65 Mint State Morgan dollar is a truly attractive coin. Any scratches will be very light, and away from prime focal areas. Mint luster will be complete and fully original, save for some faint rubbing at the cheek of Liberty and the top of the eagle's breast. There is a reason why MS65 is also known as "Gem Uncirculated." Once you see one in person, you'll see why.