1928 Peace Dollar Value
Mintage: 360,649
Finest Known: MS66 (NGC) MS66+ (PCGS)
Auction Record: $48,875 (MS66)
The 1928 Peace dollar has the lowest mintage of any date in the series by far. The second-lowest mintage was the 1927 Peace dollar, which was more than twice the number. This naturally makes the 1928 a key date for the series.
The reason there were so few Peace dollars struck in 1928 was that that was all that was needed to fulfill the mandate of the Pittman Act of 1918. Under the provisions of the Act, 270,232,722 silver dollars were melted down for the war effort in WWI, but had to be replaced with new silver dollars when silver prices fell after the war. The 360,649 Peace dollars minted in Philadelphia in 1928 completed the replacement.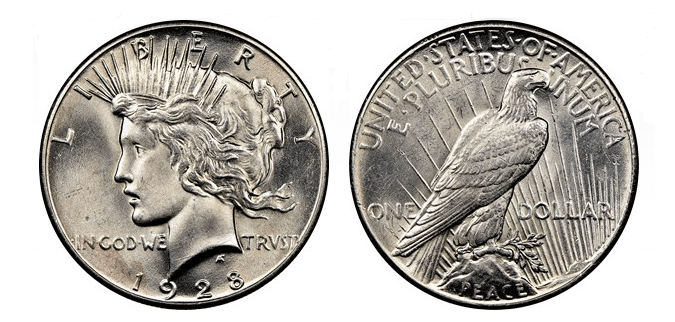 Image: USA CoinBook
The Value of a 1928 Peace Dollar
Perhaps because it was apparent that these Peace dollars would join the hundreds of millions of silver dollars stacked in government vaults, the strike quality of the 1928 Peace dollars is generally weaker than expected from a Philadelphia mintage.
Because word of the tiny mintage spread quickly, the 1928 Peace dollar is actually more of a condition rarity in circulated grades. The miniscule number struck make finding one with good eye appeal a struggle, due to poor strikes and luster.
1928 Peace Dollar Price Guide
Circulated Grades
| Very Fine | Extremely Fine | About Uncirculated |
| --- | --- | --- |
| $285 | $310 | $385 |
Uncirculated (Mint State) Grades
| Mint State 61 | Mint State 63 | Mint State 65 | Auction Record (MS66) |
| --- | --- | --- | --- |
| $550 | $875 | $4,750 | $48,875 |
The information on this page does not constitute an offer to buy or sell the coin(s) referred to. Statistics are for Mint State coins only. Proof and prooflike examples of this issue may have greater or lesser "finest known" and different record auction prices.